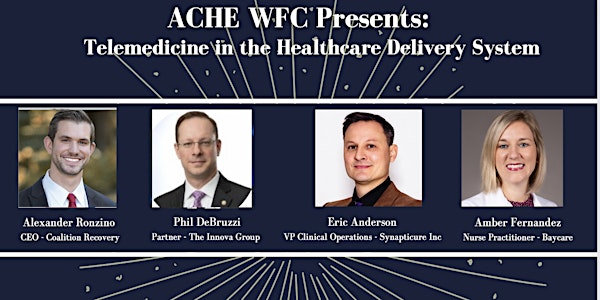 Telemedicine has become a healthcare access imperative. Its innovative benefits are of vital interest amid the implementation of most healthcare regulations. Telemedicine uses a variety of forms of electronic communication technology to provide a convenient method to deliver healthcare services and education. The program surveys its current uses and organizational deployment of telemedicine. The discussion includes adoption and innovation across clinical and patient perspective. Technical, operational, regulatory, and financial/reimbursement aspects of the development of telemedicine programs will be investigated. The expanding role that telemedicine holds in daily medicine and its direction into the future of the healthcare delivery system will be explored.
Agenda
6:00 -6:15 – Event & speaker introduction
6:15 -7:15 – Speakers Present
6:15 – 7:30 – Speaker Q & A
Virtual Face-to-Face Credit Hours: 1.5
To purchase your tickets, use the following link: https://www.eventbrite.com/e/wfc-ache-telemedicine-in-the-healthcare-delivery-system-virtual-event-tickets-338576179467
** Upon Eventbrite Ticket Purchase, you will be directed to ACHE National's website to COMPLETE your Registration. Please check your spam/junk folders.**
Panel Members
Phil DeBruzzi, Partner, The Innova Group
With 25 years of experience advising organizations on effective deployment of facility and capital resources in the context of a clinical and business strategy, Phil has deep expertise in clinical volume forecasting, facility master planning, ambulatory network planning, capacity optimization, and capital investment analysis for integrated health systems, academic medical centers, children's hospitals, and specialty hospitals. He enjoys co-creating solutions with his clients to ensure action plans reflect their unique situation.Prior to joining The Innova Group, Phil led the Capital Asset Strategy Team at Navigant. He is a frequent speaker at industry conferences and active in professional organizations. He is a Fellow of the American College of Healthcare Executives and 2019 President of the Minnesota Chapter of ACHE. Phil is trained in Lean principles and an American Society for Quality, ASQ-Certified Six Sigma Green Belt.
Alexander Ronzino, CEO ,​ Coalition Recovery
Mr. Ronzino currently serves as Chief Executive Officer of Coalition Recovery – a nationally accredited behavioral health treatment center, and multi-facility healthcare organization based out of Tampa, Fl. ​ He received his degree in Finance from Florida State University and holds a black belt in Lean Six Sigma. Alexander's non-profit work includes serving on the board of three organizations which he cares about deeply. He serves as a board member of the American College of Healthcare Executives – Western Florida. Alexander also serves as treasurer and board member of the Association of Recovery in Higher Education (ARHE) – a 501c3 that currently operates on 158 university campuses across the United States. ARHE provides functional support to member institutions and serves as an accrediting body, implementing the national standards of peer support communities (collegiate recovery programs) for students in recovery from substance use disorder. In a newly elected position, Alexander serves as the Chairman of the National Foundation for Collegiate Recovery – a 501c3 foundation with the specific purpose of raising funds for student scholarships, and providing funding and field support to new social service programs at colleges and universities around the nation.
Amber Fernandez, Family Nurse Practitioner, Baycare
Amber Fernandez is a family nurse practitioner who works for Baycare Urgent Care and has virtually evaluated and treated numerous patients with the Baycare Anywhere platform over the past 2 years. She completed her Bachelor of Science in Nursing at the University of Florida in Gainesville in 2001 and then earned her Master of Science degree at The University of Tampa. She is nationally board certified with the American Academy of Nurse Practitioners as a family nurse practitioner and has been practicing since 2007.
Eric Anderson, Vice President Clinical Operations and Care Delivery, Synapticure Inc.
Dr. Eric Anderson is an innovative physician-scientist that has been recognized as a national leader in telemedicine and mobile health. He trailblazed the use of mobile telemedicine in emergency neurology and was the first to demonstrate and publish that remote stroke assessment could be performed with an iPhone. Dr. Anderson practices sees the gamut of neurologic disease in his consultative practice that includes acute stroke, intracerebral hemorrhage, traumatic brain injury, status epilepticus,and other neurologic emergencies over telemedicine. He speaks nationally on the topics of telemedicine as it applied to stroke, epilepsy, and neurologic disease. Dr. Anderson leads several efforts in bringing telemedicine and technology to the forefront of medicine including being the past Chairperson of the Telemedicine Workgroup, past Vice Chair of the Practice Committee, as well as past member of the Practice Management and Technology Subcommittee, and currently serves on the advocacy committee and conference subcommittee for the American Academy of Neurology. He has also served as vice chair and as an elected executive leadership council member for the Physician Electronic Health Information Technology Coalition for the Bipartisan Policy Center in Washington, D.C. His academic work has been published in high impact medical journals and authoritative texts in neuroelectrophysiology, neuroviriology, neuropathology, proteomics, telemedicine, and mobile health.