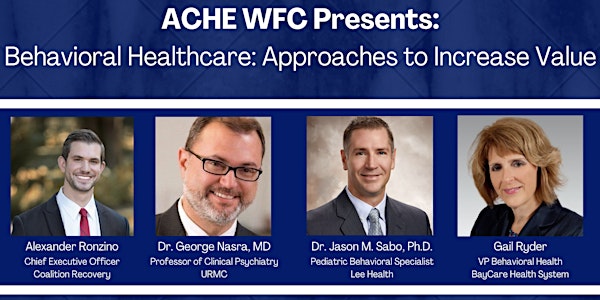 **This is a VIRTUAL event. If you purchased your Eventbrite ticket & completed your registration with the link provided to you for ACHE National, you received a Zoom link in your e-mail. Please check your spam/junk folders. The e-mail is from Blue Sky or ACHE itself. Passcode is ACHE for the event with your unique Zoom link. You must fully attend the event and complete the evaluation on ACHE.org in order to receive F2F credit.**
Historically, hospitals and health systems have not always embraced a role in meeting behavioral health needs in communities because managing behavioral healthcare and mental health is very complex. According to the National Alliance of Mental Illness approximately 1 in 5 adults in the U.S.—43.8 million, or 18.5%—experiences mental illness in a given year. The rate of youth with severe depression increased from 5.9% in 2012 to 8.2% in 2015. Nearly half (45 percent) of those with any mental disorder also meet criteria related to having a physical illness or substance abuse. Physical health and mental health issues occur together. For example, people with diabetes or cardiac conditions often develop depression as well. Being able to receive treatment for both conditions through an integrated behavioral health and primary care setting can be especially helpful since how we live our lives (behave) and our physical and mental health all interact with each other in complex ways.
To purchase your ticket, use the following link: https://www.eventbrite.com/e/355559176067
Agenda
9:00 – 9:15 – Event & speaker introduction
9:15 -10:15 – Speakers Present
10:15 – 10:30 – Speaker Q & A
Virtual Face-to-Face Credit Hours: 1.5
** Upon Eventbrite Ticket Purchase, you will be directed to ACHE National's website to COMPLETE your Registration. Please check your spam/junk folders.**
Moderator
Alexander Ronzino
Mr. Ronzino currently serves as Chief Executive Officer of Coalition Recovery – a nationally accredited behavioral health treatment center, and multi-facility healthcare organization based out of Tampa, Fl.
Mr. Ronzino ​is a 30 Under 30 recipient and has been featured/interviewed and/or published by ABC News, Business Insider, Managed Healthcare Executive, and the Recovery Executive Podcast. Alexander secured venture capital funding at the age of 22 to become the youngest chief executive of a nationally accredited behavioral healthcare organization in the United States. His organization ranked 3rd on the 2021 Seminole 100, an award to the 100 fastest growing alumni led companies from FSU. Prior to Coalition, he founded a corporate marketing company that was the subject of an acquisition when Alexander was 20 years old. His subsequent management consulting company lent him vast experience in corporate finance, private equity, along with personal wealth management. ​ He received his degree in Finance from Florida State University and holds a black belt in Lean Six Sigma.
Panel Members
Dr. George Nasra
Dr. Nasra is Professor of Clinical Psychiatry at URMC where he serves as Chief of the Division of Collaborative Care and Wellness, and Medical Director of Behavioral Health Partners. Dr. Nasra received his Masters of Science in molecular biology and his MD degrees from the American University of Beirut. He completed his psychiatry residency at Upstate Medical University in Syracuse, NY. He is a Fellow of the American Psychiatric Association, and a member of the American College of Psychiatrists. Dr Nasra is Board Certified in General Psychiatry, Forensic Psychiatry and Psychosomatic Medicine. After 20 years as a psychiatrist, Dr. Nasra enrolled in the executive MBA program at the Simon School of Business and graduated with an MBA in 2013. Dr. Nasra's career interests include collaborative and integrated care as well as increasing access to psychiatric services and reducing stigma for mental health. He is dedicating his time currently to developing new models of care integration between psychiatry and other areas of medicine, as well as developing and marketing novel employer based psychiatric services.
Dr. Jason M Sabo
Dr. Jason Sabo, Ph.D. is a pediatric developmental and behavioral specialist. He attended medical school at Ball St. University, interned with Miami-Dad Human Services and completed his residency at the Ohio Department of Youth Services. He currently works in Pediatric Behavioral Health at Lee Health in Fort Myers, Florida. Dr. Sabo's interests include Autism Spectrum Disorder, ADHD, behavioral problems, anxiety disorders, mood disorders, and violent and aggressive behaviors.
Gail Ryder, VP, BayCare Behavioral Health
Gail joined the BayCare Health system in July of 2011. She is responsible for the continuum of services across the five counties of Tampa Bay for BayCare Behavioral Health. The programs include acute inpatient, residential, detox, rehabilitation, and outpatient services.
Unique to this service is the behavioral health integration with primary care, a novel coaching and navigation initiative for patients with mental illness, and a broad array of EAP services; targeted to distinct employer types such as schools, colleges, and churches.
The Behavioral Health division is also responsible for the management of the mental health benefit of the systems self – insured health plan.
Gail was the 2014 National Association of Psychiatric Health Systems (NAPHS) board chair.
She spent the previous 14 years at New York Presbyterian Hospital in New York, responsible for psychiatry, neurology, and neurosurgery. She has devoted 35 years of her career to caring for the mentally ill.