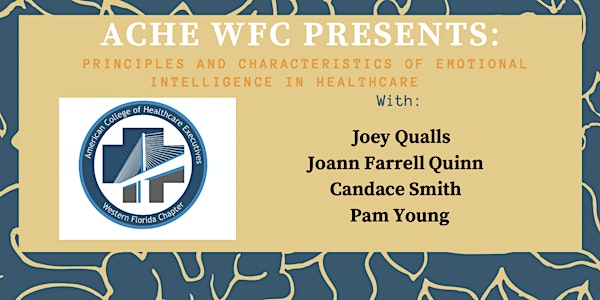 The relationship between an organization's employees internally, and with patients, external stakeholders, and supporting people externally, is critical to the success of healthcare organizations. In today's fluid environment, cognitive intelligence and technical skills are only part of individual and team effectiveness. Leaders and staff must utilize emotional intelligence or emotional quotient, which includes self-awareness, self-management, motivation, authenticity, empathy, adaptability and resilience. The impact of emotional intelligence can influence better patient outcomes and higher quality of care, as well as reduce staff burnout. This panel discussion will provide an overview of EI and examples of how it affects healthcare delivery.
Agenda
6:00 – 6:15 – Event & speaker introduction
6:15 – 7:10 – Speakers Present
7:15 – 7:30 – Speaker Q & A
Virtual Qualified Education Event
To purchase your ticket, use the following link: https://achewfc_emotionalintelligence_apr2022.eventbrite.com
Panel Members
Joey Qualls, Senior Learning Consultant, Vanderbilt University Medical Center (VUMC)
Joey has a Bachelor of Science in Workforce Education and Development from Southern Illinois University, and his Master of Education (M.Ed.) in Leadership and Organizational Performance (LOP) at Vanderbilt University. He holds multiple psychometric assessment and evaluation certifications such as Emotional Intelligence, Myers-Briggs Type Indicator, Situational Leadership II, and PROSCI Change Management among others. He will begin his Doctor of Education (Ed.D.), Leadership and Learning in Organizations studies in Fall 2022. In 2015, Joey retired from the United States Navy with twenty-four years active service in Submarine Research and Development, and Diving Operations communities. Joey joined Vanderbilt University Medical Center (VUMC) in January of 2016 as a Sr. Learning Consultant. In this role, he developed, facilitated, and managed a World-class leadership development program for VUMC staff. In 2021, he joined Lee Health's team of Learning and Development professionals providing similar services. His primary roles and experiences include Leadership Development, Performance Improvement, Operations, Project and Change Management, and Executive Coaching. His primary professional interests and focuses are to reduce health care disparities through unique organizational development and systemic initiatives such as Unconscious Bias training for Healthcare Leaders. He is the Co-Founder and currently serves as the Primary Sponsor of VUMC 's Veterans Resource Group and United Voices of Vanderbilt Choir.
Joann Farrell Quinn, Academic Director, University of South Florida
Dr. Joann Farrell Quinn is an emotional intelligence and leadership author, faculty, researcher and speaker. As a faculty member at the University of South Florida, she teaches in Morsani College of Medicine and the Muma College of Business and conducts research in leadership competencies, leadership identity, and emotional intelligence. She is also the Academic Director for Tampa General Hospital's USF People Development Institute. She recently co-authored the books The Importance of Emotional Intelligence in Healthcare and Cultivating Leadership in Medicine. Joann also operates JFQ Consulting, which utilizes research-based methods to offer leadership and organizational development assistance to individuals, teams, and organizations. Based in a framework of emotional intelligence, her firm offers customized solutions of assessment, coaching, and individual and team consulting.
Candace Smith, Vice President of Operations, Chief Nurse Executive, Lee Health at Cape Coral Hospital
Dr. Smith is Vice President of Operations, Chief Nurse Executive, Lee Health at Cape Coral Hospital. She is author of "Chapter Leader's Guide to Provision of Care: Practical Insight on Joint Commission Standards," a guidebook by Healthcare Professional Organization. She holds a board certification in Advanced Nursing Executive from the American Nurses Credentialing Center. Candace holds a PhD in Education with a specialization in Organizational Leadership. She earned a Bachelor's degree in Nursing from D'Youville College, and a Master's in Public Administration from University of Brockport, New York. Dr. Smith is published in American Nursing Association and Nursing Management on topics surrounding Exemplary Leadership and Staff Engagement. Candace has served in two Corporate CNO positions involving clinical and technology consulting. She is a nationally known speaker on topics of clinical excellence, speak up, and exemplary leadership. She serves on the board of the Western Florida- American College Healthcare Executives Chapter and is Past President for Sun Coast Organization of Nurse Executives, a chapter of the Florida Organization of Nurse Executives. Dr. Smith is an adjunct Professor at State College of Florida, Health Services Administration Program. She teaches Quality Management in Healthcare and Contemporary Issues in Healthcare and in February 2020 published Healthcare Quality Management: A Case Study Approach with two other colleagues. . Dr. Smith has recently joined Nova Southeastern University as an adjunct Professor and teaches Quality Management in Healthcare. Dr. Smith has been in healthcare for over 30 years.
Pamela Young, Division Director, Leadership & Organizational Development, West Florida Division of HCA Florida Healthcare
Pam brings nearly thirty years of people development experience to her role. She is versed in the areas of performance planning and improvement, coaching, large-and-small scale facilitation, leadership development, succession planning, human resource strategy, organizational development, learning administration, human resources and multiple assessment tools. She holds a Master of Arts in Education & Organizational Learning from the University of Michigan and a Bachelor of Science in Human Resources, Training & Development from Oakland University.