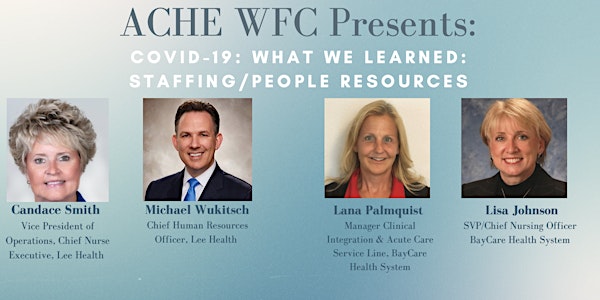 **This is a VIRTUAL event. If you purchased your Eventbrite ticket & completed your registration with the link provided to you for ACHE National, you received a Zoom link in your e-mail. Please check your spam/junk folders. The e-mail is from Blue Sky or ACHE itself. Passcode is ACHE for the event with your unique Zoom link. You must fully attend the event and complete the evaluation on ACHE.org in order to receive F2F credit.**
Emergency management requires precise identification and allocation of staff to align capabilities and capacity with the need to effectively deliver care for the community. The COVID-19 outbreak caused a substantial shift in the availability of staff and resources, and the accessibility of timely delivery of care. In response to the evolving needs, organizations have shifted staff in a variety of ways to ensure they were able to effectively screen, triage and care for patients. This panel will provide strategies and tactics of how their organizations adjusted their staffing structure to ensure that the most appropriate level of care is delivered during a medical surge such as the COVID-19.
To purchase your ticket, use the following link: https://www.eventbrite.com/e/wfc-ache-covid-19-what-we-learned-staffingpeople-resources-tickets-168887277393
Agenda
6:00 – 6:15 – Event & speaker introduction
6:15 – 7:15 – Speakers Present
7:15 – 7:30 – Speaker Q & A
Virtual Face-to-Face Credit Hours: 1.5
** Upon Eventbrite Ticket Purchase, you will be directed to ACHE National's website to COMPLETE your Registration. Please check your spam/junk folders.**
Panel Members
Lana Palmquist, Manager Clinical Integration & Acute Care Service Line, BayCare Health System
Lana Palmquist, MS Ed., RN, BSN, CPHQ, CVAHP, is the Manager of Clinical Integration & Acute Care Service Line. She helps lead inpatient focused clinical improvement initiatives, co-chairs the clinical pathways committee, and is a key leader for the care transformation work helping to reduce care variation and utilization. Before joining BayCare, Lana spent ten years at Saint Luke's Health System – Kansas City as a Clinical Project Manager leading multidisciplinary teams focused on the design and implementation of programs and initiatives to ensure patient safety, reduce risk, and improve regulatory compliance. She earned Bachelor of Science Degrees in Elementary Education and Nursing from Kansas State University and Avila University, respectively and a Master of Education from the University of Kansas. She is a Certified Professional Healthcare Quality (CPHQ) and Certified Value Analysis Healthcare Professional (CVAHP).
Lisa Johnson, Vice President , Morton Plant Mease/BayCare
Lisa Johnson, MSN, RN, NEA-BC, has been a part of the BayCare hospitals for 30 years, serving in various nursing leadership roles including VP/Chief Nursing Officer of patient services at Morton Plant Mease from 1998 – 2016, when she was promoted to the BayCare Health System CNO. As BayCare's SVP/CNO, Lisa is responsible for the professional practice of nursing across the entire BayCare Health System by ensuring the highest levels of quality and consistency in the standard of nursing practice. Key areas of responsibility for the System CNO include a focus on leadership, education, planning and analysis, quality management and financial management. Lisa has also led several nursing innovation projects, including eCare; BayCare's Professional Practice Council for nursing; an electronic nurse leader rounding system; the Dr. George Morris Earn as You Learn work/study program for nursing students, and the development of Patient Care Leaders for the oversight of complex patients in the medical surgical setting. Lisa also is co-lead, with Dr. Charvat, on the Care Progression and Transitions of Care Committees. In addition to her degree as an RN, Lisa holds a Master of Science in Nursing Leadership from Drexel University, Philadelphia; a Master of Science in Human Resource Management from Florida Institute of Technology, St. Petersburg, FL; a Bachelor of Science in Health Care Administration from St. Leo University, St. Leo, FL; and an Advanced Nursing Executive Certification from the American Nurses Credentialing Center.
Candace S. Smith, Vice President of Operations, Chief Nurse Executive, Lee Health
Dr. Smith is Vice President of Operations, Chief Nurse Executive, Lee Health at Cape Coral Hospital. She is author of "Chapter Leader's Guide to Provision of Care: Practical Insight on Joint Commission Standards," a guidebook by Healthcare Professional Organization. She holds a board certification in Advanced Nursing Executive from the American Nurses Credentialing Center. Candace holds a PhD in Education with a specialization in Organizational Leadership. She earned a Bachelor's degree in Nursing from D'Youville College, and a Master's in Public Administration from University of Brockport, New York. Dr. Smith is published in American Nursing Association and Nursing Management on topics surrounding Exemplary Leadership and Staff Engagement. Candace has served in two Corporate CNO positions involving clinical and technology consulting. She is a nationally known speaker on topics of clinical excellence, speak up, and exemplary leadership. She serves on the board of the Western Florida- American College Healthcare Executives Chapter and is Past President for Sun Coast Organization of Nurse Executives, a chapter of the Florida Organization of Nurse Executives. Dr. Smith is an adjunct Professor at State College of Florida, Health Services Administration Program. She teaches Quality Management in Healthcare and Contemporary Issues in Healthcare and in February 2020 published Healthcare Quality Management: A Case Study Approach with two other colleagues. . Dr. Smith has recently joined Nova Southeastern University as an adjunct Professor and teaches Quality Management in Healthcare. Dr. Smith has been in healthcare for over 30 years.
Michael Wukitsch, Chief Human Resources Officer, Lee Health
Michael Wukitsch joined Lee Health in June 2018. Mike's responsibilities include supporting Lee Health's mission, vision, values, and strategic objectives by creating the most effective culture and environment for staff to do their best work in support of patients and their families. Mike is responsible for total rewards and HR systems, leadership and organizational development, recruiting and workforce development, client group support through HR Business Partners and employee relations. He ensures compliance related to the workforce over six hospitals, physicians, advance practitioners, facilities, and multiple business units in Outpatient, Ambulatory Care, and Diagnostics. He also has accountability for three auxiliaries and volunteer organizations with more than 4,000 volunteers and for the operations of three (soon to be four) accredited Child Development Centers. With a human resources career spanning over 30 years, Mike has progressed through a variety of HR leadership roles at Northwestern Medicine, Children's Hospital Colorado, MolsonCoors Brewing Company, Rockwell Automation and AlliedSignal (now Honeywell). He earned his BA from Marquette University and an MBA from the Ross Business School at the University of Michigan in Ann Arbor. He is still working on his PhD in Organizational Learning, Performance and Change at Colorado State University. He is SPHR and SHRM-SCP certified.