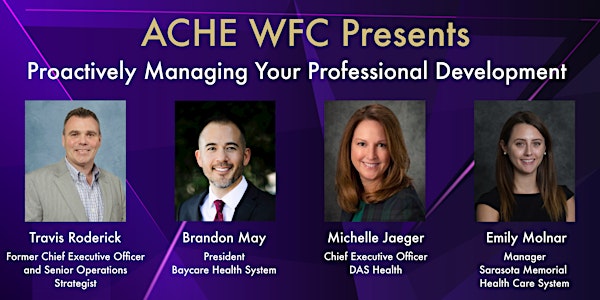 The panelists will share valuable insight on the nuts and bolts of career planning. Please join us for our ACHE's Western Florida Chapter Zoom-enabled event on Proactively Managing Your Professional Development, designed especially for our early careerist members. Register here on Eventbrite!
This virtual panel engages our emerging leaders with focus on providing practical guidance for career planning by discussing the necessary steps within one's organization and the community to advance to the next level in their career. The event will be moderated by Mr. Travis Roderick, Consultant and Former Chief Executive Officer.
Agenda
5:30 -5:45 – Event & speaker introduction
5:45 -6:45 – Speakers Present
6:45 – 7:00 – Speaker Q & A
Virtual Qualified Education Credit Hours: 1.5
**Please scroll down to learn how to secure your Qualified Education Credits**
To regsiter, go to: https://www.eventbrite.com/e/ache-wfc-emerging-leaders-proactively-managing-your-prof-development-tickets-642557295167
Event Moderator
Travis Roderick – President, Chief Executive Officer, Senior Operations Strategist
Travis is a highly accomplished healthcare executive seeking an executive leadership opportunity to leverage his extensive experience and relationship skills in driving transformative change within organizations. With a proven track record, Travis excels in building managerial systems and processes that foster clinical innovation, excellence, and a people-focused approach to care.
Throughout his career, Travis has demonstrated versatility in healthcare management, having successfully navigated start-ups, turnarounds, high-growth scenarios, and the management of large national systems with complex stakeholder relationships. Regardless of the environment, his leadership style and management methods have consistently yielded positive results.
Travis's approach to building exceptional healthcare companies revolves around his ability to identify and develop top talent while instilling a collective ambition and compelling vision. He prioritizes fostering strong connections among team members, ensuring alignment and unity. Once the people component is established, Travis diligently works with his teams to define the tactical steps, processes, and systems necessary to consistently deliver promised results.
With a strong emphasis on his proven relationship skills, innovation experience, and strategic thinking, Travis excels at creating strategic alliances among various constituents. By leveraging these alliances, he achieves ambitious goals that were previously considered unattainable.
Panelists
Brandon May, MBA – President, Baycare Health System
Brandon has extensive experience in the operation and financial management of health care organizations. Prior to coming to Morton Plant North Bay Hospital, Brandon served as the chief executive officer of Doctors Hospital of Manteca in Manteca, California, which is part of Tenet Healthcare Corporation based in Dallas. During his tenure with Tenet, he held a variety of leadership positions within three key growth markets. Brandon is familiar with West and Central Florida as he was previously CFO at Bartow Regional Medical Center, now a BayCare hospital.
Prior to his professional career, Brandon received his Master's in Business Administration and his Bachelor's in Business Administration with a concentration in Finance from Texas Tech University in Lubbock. While there, he competed in intercollegiate athletics as a hurdler/sprinter for the Men's Track and Field Team.
Brandon is a Fellow of the American College of Healthcare Executives. He has been active in local North Tampa chambers of commerce, currently serves on the Board of Directors for the Pasco Economic Development Council and is a Board Trustee of the Boys & Girls Clubs of Tampa Bay Foundation.
Brandon is an outdoor enthusiast and is married with two children.
Michelle Jaeger – Chief Executive Officer, DAS Health
Michelle Jaeger is the President and Chief Executive Officer of DAS Health, a healthcare technology and services firm that for nearly 20 years has become a trusted advisor for nearly 2,000 healthcare clients, providing services to over 30,000 users and over 15 million patients nationwide.
Michelle previously served as Senior Vice President of Global Growth for UnitedHealthcare. In this role, she successfully transformed the Brazil insurance and care delivery growth agenda to exceed membership targets and meet the financial goals of the business. Prior to that, Michelle held the role of Senior Vice President of OptumRx Client Management where she led a team of more than 200 professionals. She was responsible for the strategic direction of the client management organization including the expansion of products and services. Prior to joining UnitedHealthcare, Michelle spent almost a decade at Medco Health Solutions – now Express Scripts – including her last role as an Executive Director, and before that worked for ancillary benefit companies and financial organizations holding positions in general management, account management, compliance and operations.
Michelle has a Bachelor of Arts degree in Speech Communications from St. Cloud State University. She has served as the Zambia Liaison for the Board of Tiny Tim and Friends and Steven's Square Foundation. In her free time, Michelle likes to exercise, watch her son play baseball, read, cook, travel and spend time with family and friends.
Emily Molnar, MHA, CPH – Manager, Sarasota Memorial Health Care System
Emily Molnar grew up in Sarasota County before attending The University of Alabama for her undergraduate degree. At Alabama, Emily majored in Management with a specialization in Health Care Analytics and minored in Spanish. In 2018, Emily graduated and moved to Tampa where she attended the University of South Florida Master of Health Administration program. Her work experience during graduate school included a Graduate Research Assistant position with the USF Health Informatics Institute and an internship in the Medical Economics department of WellCare Health Plans. She was also an active student member of the American College of Healthcare Executives and worked as the Finance Committee Intern, and she served as President of the USF Healthcare Management Student Association.
After graduating, Emily started an Administrative Fellowship at Sarasota Memorial Health Care System where she completed many high-level projects related to the system's COVID-19 response and planning for the new Sarasota Memorial Hospital-Venice opening. Emily also took a strong liking to her work with the Post-Acute and Rehabilitation division and eventually transitioned into the role of Business Planning and Project Manager with this team. She is now part of the leadership team supporting the entire post-acute continuum and assists with budgeting, financial analysis, strategic planning, and process improvement. Some of her favorite projects include developing a comprehensive environmental scan to analyze all levels of post-acute care on a local and national level, coordinating efforts of the inpatient rehabilitation team to prepare for the next CARF accreditation survey in October 2023 (hoping for a third deficiency-free result), and implementing occupational therapy services in the new Cornell Family Behavioral Health Pavilion for acute behavioral health patients.
Emily's future goals include service line and operational leadership. In her free time, Emily also enjoys yoga, cooking, and playing with her dog.
How to Secure Virtual Qualified Education Credit Hours:
As an independent chartered chapter of the American College of Healthcare Executives, the Western Florida Chapter, is authorized to award a total of 1.5 hours of ACHE Qualified Education credits toward advancement or recertification in the American College of Healthcare Executives. Participants in this program who wish to have it considered for ACHE Qualified Education credit should list their attendance when they apply to the American College of Healthcare Executives for advancement or recertification.
Qualified Education Credits are self-reporting credits. Please self-report your credits using the link titled "My education Credit" on your myACHE profile page. If additional assistance is needed, please contact ACHE Customer Service (contact@ache.org or 312-424-9400).